EastCountyLive.com and the "Spotlight" is more than just a local e-mailer. It is a network of local business people that provide advertising and business image services to expand your business image throughout the community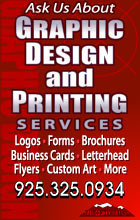 Graphic design is something that all businesses need for one reason or another, but an in-house designer is not always practical. Most people have a friend or brother-in-law with a computer and a graphics package, unfortunately these people usually don't know what is necessary to produce a professional product that is printable, or web capable.
At East County Live we can produce a professional looking logo that suits all of your graphic needs. With decades of experience in the graphic design field, our designer has produced graphics for every possible type of media a company could need. From new logos, to forms and postcards, fliers and business cards to banners and signs we do it all and at reasonable prices. With our network of local business people, we can also do the leg work to get your printing done. There is no need for you to learn the printing industry when you are focusing on your own specialty
Even if you already have a logo and just want a clean digital version of it that can be sent to multiple printers, we have a service for you. Just give Frank a call.
---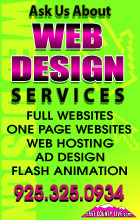 The biggest breakthrough for business in the past twenty years is the internet and digital communications. People are doing more than letting their fingers doing the walking these days, they are researching prices, inventory, and product details from their own homes. The smallest business person is now able to put any piece of information onto the web within minutes of an idea hatching. At East County Live, our Spotlight newsletter registers hundreds of customer clicks within an hour of it's delivery by e-mail. If your business is not accessible on the web in one form or another, chances are your competition already has a step up on you.
Contrary to the popular belief that web design costs thousands of dollars, a small business can be online at reasonable pricing as compared to the yellow pages. The yellow pages can't offer dynamic changes and instant coupons to your customers. Not only that but a typo lasts a full year in the phone book.
At East County Live, we can build animated flash ads, one page web sites, one page ads, banners, full websites and more. If you have questions call or e-mail Frank MacCallister.
---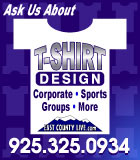 Every company has an image to promote. Whether it be on an in-house uniform or for a fundraiser or just so the world can see it, a shirt is one of the most common forms of walking advertising there is.
East County Live has the ability to create artwork and logos for garment printing that will look professional. We have the resources to produce small to large quantity orders and in multiple color variations.
If you are looking to dress your employees, or produce a cool shirt for your organization or fundraiser, we can help you get that done. Just call Frank
925.325.0934