EAT, PLAY, GOLF & WATER SPORTS

Start your fun 15 minutes from Oakley. See MAP of the island. About BETHEL ISLAND today. Water sports fun BOAT RENTALS. Play GOLF for fun & exercise. Good food RESTAURANTS. Waterfront PROPERTY for sale.
---
$11.95 PRIME RIB DAILY HOUSE SPECIAL @ MAC'S OLD HOUSE

All meals served with Homemade Minestrone Soup, Salad, Pasta, Sauteed Vegetables and Warm Bread & Butter. $7 COUPON visit MacsOldHouse.Com.
---
---
GREAT FOOD, CHALLENGING GOLF, & MUSIC? YES!
Planning a Wedding or Banquet? We can elegantly seat 300. Hosted over 300 events last year. Call our catering office (925) 706-4232. Are you ready for some fun?. Visit LoneTreeGolfCourse.Com
---
---
---
The Best Margarita In East County!
Open 7 Days 11AM-10PM. Mariachi every Thur! Free APPETIZER w/drink purchase in the bar M-F 3-7PM. COUPONVisit
CeliasAntioch.Com
Community Event Calendar
ADD ANTIOCH, BRENTWOOD, OAKLEY, PITTSBURG, CA EVENTS ONLY
MAKE A FREE WEB PAGE OF YOUR EVENT!
Out of town events are advertisements. 1 week $80 10 weeks $195!

Click on Event Name to get more details and ticket information.
07/30/2015 -
08/27/2015
MUSIC BY THE GREEN
MUSIC BY THE GREEN Join us Thursday Nights 6 - 9PM for Great Food, Fun, Music on our beautiful more...
Antioch
07/30/2015 -
08/27/2015
MARIACHI SAN MIGUEL THURSDAY
Stop by and listen to the entertaining sound of the MARIACHI SAN MIGUEL BAND every Thursday night! more...
Antioch
07/31/2015 -
08/21/2015
STARRY NIGHTS - SUMMER CONCERTS IN BRENTWOOD
The City of Brentwood proudly presents "Starry Nights" Summer Concert Series 2015, beginning Friday, more...
Brentwood
07/31/2015 -
08/28/2015
RUSTY PORTHOLE JULY SCHEDULE
Hey All July is Ready to Rock N more...
Bethel Island
08/01/2015 -
11/21/2015
BRENTWOOD FARMER'S MARKET
The rich and verdant fields and orchards in the Brentwood area make it one of Northern California's more...
Brentwood
08/01/2015 -
08/29/2015
ANTIOCH SATURDAY SUMMER CONCERTS
LOCATION: Waldie Plaza Across from City Hall (2nd & I Streets) * Click on dates below for more more...
Antioch
08/01/2015 -
08/09/2015
SHOWCASE OAKLEY WEEK
The City of Oakley is hosting a new, week-long event called "Showcase Oakley Week". The goal of the more...
Oakley
08/06/2015 -
09/03/2015
OLD TOWN PITTSBURG CULINARY CRAWL
The Culinary Crawl is a walking restaurant tour that showcases Old Town Pittsburg restaurants on more...
Pittsburg
08/08/2015 -
12/12/2015
EXPLORE THE ANTIOCH SAND DUNES
Exploring the Dunes Second Saturday of every month from 10 a.m. - 11 a.m.Tour Docent-led tour of more...
Antioch
08/08/2015
SUMMER CONCERT
Join us for a summer concert featuring "The Floorshakers" on Saturday, August 8 at 6pm. This more...
Oakley
08/15/2015
COMEDY OF SCOTT CAPURRO
"There are some topics which just aren't suitable for comedy. Luckily for us Scott hasn't worked out more...
Pittsburg
08/21/2015
ABBEY ROAD: A TRIBUTE TO THE BEATLES
With their tight harmonies, flawless note for note renditions of Beatles hits, custom–tailored more...
Pittsburg
08/29/2015 -
08/30/2015
2015 BRENTWOOD ART WINE & JAZZ FESTIVAL
The Brentwood Art Society will host the 14th annual Brentwood Art, Wine, & Jazz Festival at The more...
Brentwood
08/29/2015
PITTSBURG YACHT CLUB CASINO NIGHT
Pittsburg Yacht Club Casino Night Poker, Blackjack Texas Holdem Roulett Craps
Pittsburg
09/12/2015 -
09/13/2015
31ST ANNUAL PITTSBURG SEAFOOD FESTIVAL
DATES & TIMES: September 12 & 13, 2015 Festival open from 10:00am to 7:00pm on Saturday and 10:30am more...
Pittsburg
09/13/2015
DIABLO MARINE'S 1ST BATHTUB RACE
Diablo Marine & Trailer would like to invite you to take part in the 1st Annual Bathtub Race, to more...
Pittsburg
09/19/2015
HEART OF OAKLEY FESTIVAL
This one day event is from 11am to 5pm and features Wine, Micro-Brews, gourmet food trucks, vendors, more...
Oakley
09/19/2015
17TH ANNUAL DELTA BLUES FESTIVAL
Six BLUES BANDS beginning at 12 noon headliner Matt Schofield @ 6:30PM. Food, Music, Crafts, Free more...
Antioch
10/03/2015
PITTSBURG YACHT CLUB 2ND ANNUAL MAKE-A-WISH CRUISE DAY
Fundraiser for Make-A-Wish Greater Bay Area. See attached flyer.
Pittsburg
Lawn & Garden; Outdoor Living; Paint; Home Goods; Tools; Hardware; Plumbing; Heating & Cooling; Electrical; Auto;
Shop at the location nearest you
Antioch, Brentwood, Oakley, Pittsburg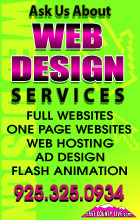 A1 Transmission