Contra Costa Fun
Friday, April 3rd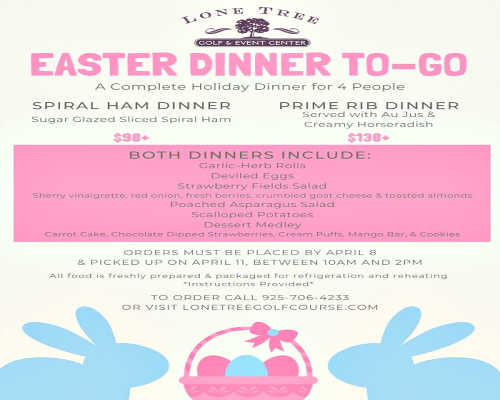 I Choose To Look At The Bright Side
Highlights for the week include fond memories of Easter Dinner. Celia's Mexican Food, Antioch now offering online food ordering. Mannheim Social Club, Brentwood now filling Growlers and Crowlers with craft, draft beer plus they also offer 200 more beer brands in the bottle shop available for safe pickup. Cap's Restaurant in Brentwood is now offering its popular Sunday Prime Rib Dinner for Two, Wednesday thru Sunday 4-7 PM! Lone Tree Golf & Event Center, Antioch offers a complete menu, family BBQ bundles, Mexican Food Bundles and Sat & Sun Breakfast with Champagne available for pickup. Also, a complete Easter Sunday Prime Rib or Ham dinner, is available, see details below!
On a personal note, we now offer a Restaurant Online Ordering System. We set the menu up and add it to their website so they can offer safe online ordering to their customers. Also, I attended a Senior Hour Shopping Event, Tuesdays 6-7 AM, at the Walmart Store in Antioch. I got some exercise, groceries and a case of wine. Takeout and leftovers taste better with a glass of wine. The only disappointment? No eggs but I got fruit for oatmeal. Looking at the bright side. Thanks and stay safe. Frank MacCallister
_____________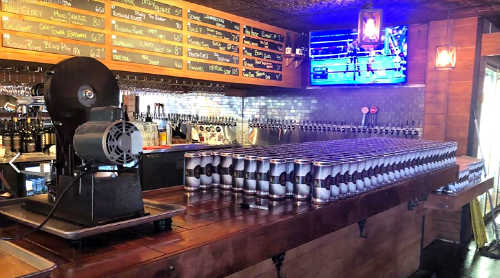 It's Friday Night... Lets Order Safe Curbside Beer Pickup!
38 Tasty Crowler Draft Beers also 200 More Beer Brands in the Bottle Shop For Safe Pickup!
Crowlers & Growlers filled for safe curbside pickup. Choose IPA's, Fruit Beers, Imperials, Hefeweizens, Wheat Beers, American Ambers, Pale Ales, Scotch Ales, Blondes, Porters, Imperial Stouts, Sours, we have what you are looking for. ABV range from 4.0 - 11.5. Crowlers $8 to $18 each. See the website for details.
Order & Pickup Service Available Thr-Sat 1 PM - 8:00 PM & Sun-Wed 1:00 PM-6:00 PM
Click Below and Choose Tap for Crowler Beers or Bottle Shop for bottled beer selection.
Mannheim Social Club
561 First St., Brentwood
To Order Call (925) 513-2300
_____________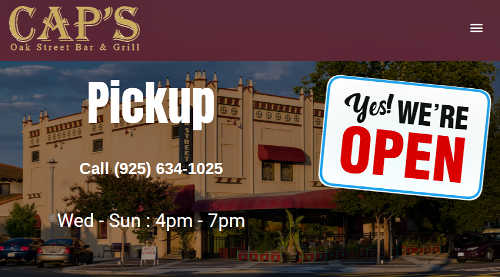 It's Friday Night...
Let's Order Dinner With Safe Curbside Pickup!
Available Wed-Sun 4:00 PM - 7:00 PM.
Look at some of our house favorites then click on the full menu button. Call your order in and save local jobs. Enjoy a great meal and no cleanup!
EGGPLANT PARMIGIANA, SCALLOPS & PRAWNS, VEAL PICCATA, MIXED GRILL, SURF & TURF, MEDITERRANEAN SALAD, PIZZA, SMOKED SALMON FETTUCCINE and more.
Want food delivered? Use... Doordash
Plus! Call & Order the Prime Rib Dinner For Two
Includes baked potato, vegetable, bread, soup or salad and a bottle of house wine $48. Available Wed-Sun 4-8 PM
Cap's Restaurant
144 Oak St., Brentwood
To Order Call (925) 634-1025
_____________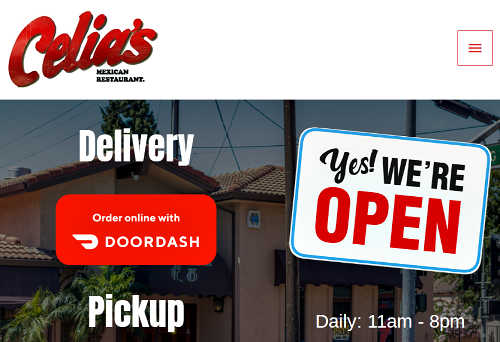 It's Friday Night...
Let's Order Dinner Safe Pickup!
Available 11:00 AM - 8:00 PM.
House favorites include CRAB ENCHILADAS, CARNITAS ABOBADAS, STEAK PICADO, COMBO FAJITAS, CHICKEN EN CREMA, CANCUN PLATTER...
New! Order Online For Safe Curbside Pickup | Or Choose Delivered by Doordash |
Celia's Mexican Restaurant
523 W. 10th St., Antioch
(925) 754-1355
_____________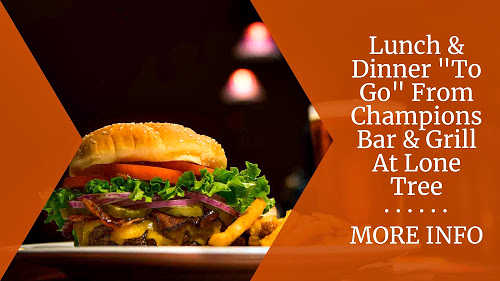 It's The Weekend! Let's Order Meals To-Go!
Service Available 11-7 PM Daily
# BREAKFAST BUNDLE available Sat/Sun morning from 7 AM - 12 Noon for Two $22, order for 4, 6, or 8 people and save. Add A Bottle of Champagne $10, Add Vinces Bloody Mary Mix with or without Vodka!
# FAMILY BBQ BUNDLE TRI-TIP/RIB $55
# JOSE'S OLE BUNDLE Now this is a fiesta $55!
# Add A Bottle of House Cabernet, Chardonnay or Merlot for $10
Call for Safe Curbside Delivery
Easter Dinner To-Go
A Complete Holiday Dinner for 4 People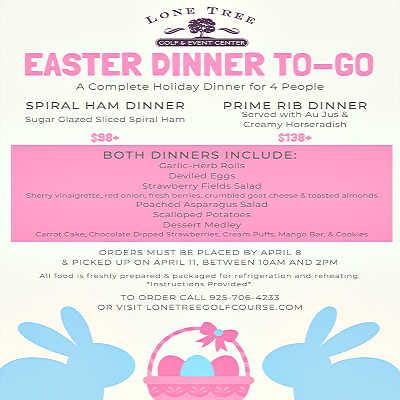 Order here for Spiral Ham Dinner To-Go!

Order here for Prime Rib Dinner To-Go!
Lone Tree Golf & Event Center
4800 Golf Course Road, Antioch
To Order Call...(925) 706-4220 x 4
_____________
Businesses Open
Check out the list of open businesses on these sites.
1. https://www.celiasantioch.com/, Antioch.
2. https://www.capsrestaurant.com, Brentwood
3. https://www.stickychickenandribs.com/, Brentwood
4. Hillcrest Taphouse, Antioch
5. Restaurant Fiore, Concord
6. Luna Restaurant, Concord
7. Ricks on Second, Antioch
8. Rivertown Sweets, Antioch
9. Bridgehead Cafe, Antioch
10. Mac's Old House, Antioch
11. Straw Hat, Brentwood
12. Sweeney's Grill, Brentwood
13. La Fuente Mexican Food, Brentwood
_____________
Next SPOTLIGHT
Friday, April 10th
Want to Grow Your Contra Costa Restaurant Business?
Call Frank MacCallister (925) 325-0934