Advertising

Advertising Rate Card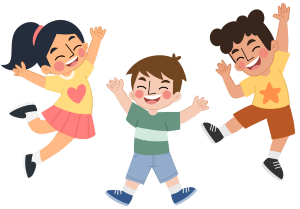 Looking For New Customers in Contra Costa?
Understand who your target audience is. Tailor your marketing efforts to their needs. Our website viewers and newsletter subscribers crave fun. They like Music Concerts, Beer & Wine Festivals, Art, Car, and Comedy Shows, and visiting Restaurants. If you identify with these people and want them as new customers let's work together to create an event they don't want to miss and make them an offer they can't refuse.
The work we produce should be integrated into your website, social media, event and email marketing. 
SPOTLIGHT NEWSLETTER ADVERTISING RATES
Pay Only For What You Need
1 Time Rate (5k mailed/3k opens/.0263ea*)  $79
2 Time Rate (10k mailed/6k opens/.0215ea*) $129
3 Time Rate (15k mailed/9k opens/.0198ea*) $179
4 Time Rate (20k mailed/12k opens/.0182ea*) $219
Everything is included; Advertising advice, Layout & Design, Accounting
Shop & compare these rates against anything. Shared coupon mailing programs? They start at .04 apiece with no open rate guarantees.  Radio & TV? How do you measure that? A very complicated formula will give you a guestimate of viewership. You can quantify online advertising, but the numbers aren't good if no one sees your site. You can't even print flyers, distribute them yourself, and beat our prices.
* This is what you pay for each potential customer to see your ad!
Also, your ad appears for a week on the ContraCostaLive.com homepage FREE!
Why is that important? Our website viewers are actively looking for fun things to do. Top performing pages for April include Beer Festivals, Restaurant Music Events, Comedy Shows, Kid's Events, Car Shows, Best Happy Hours, County Fair, Music Concerts, Art & Wine Festivals, and Coupons/Offers. They have the opportunity to see your ad FREE!
Contact Us For A Free Advertising Review
We Offer Measured Distribution
and Guaranteed Open Rates!
The cost is less than a .01 per viewer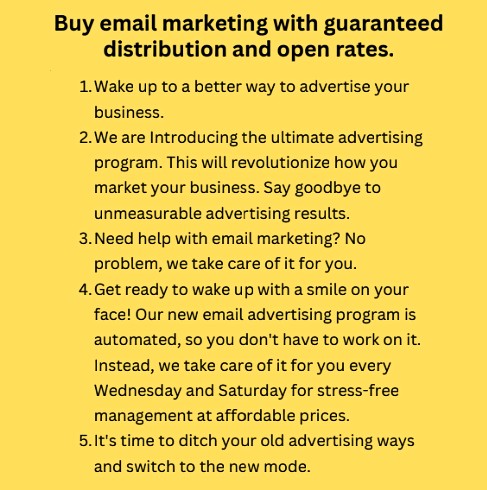 What's Included With Every Package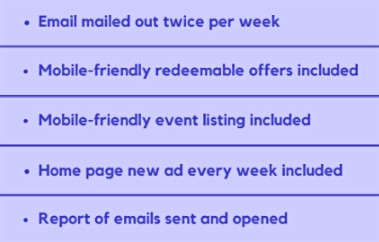 Pay Only For What You Need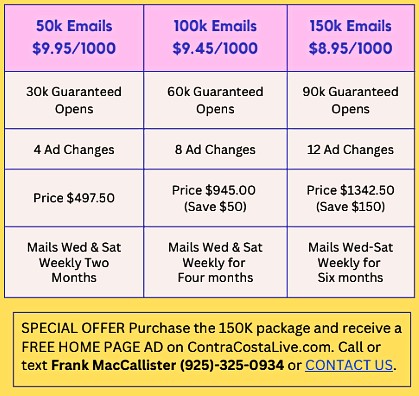 Ok, So What Does The Email Look Like
Here is the CURRENT issue
See it on the HOMEPAGE

Subscribe Free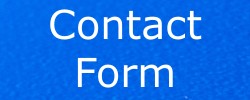 Call, Text, or Email For A No-Cost Consultation
Frank MacCallister
Antioch Ca, 
(925) 325-0934
Updated April 22, 2023