A friend called Saturday and invited me to breakfast. Two hours later I was in "a very relaxed mood" and decided to fulfill a desire.
For several weeks I have wanted to go to the 19th Hole Casino & Sports Bar on a weekend, between 9:00 AM – 2:00 PM, and suck down the weekend special… a 16 oz. Bloody Mary for $3.75!
There was always a reason why I couldn't. But not today.
They make these cocktails from scratch, I order two, spicy, to save wear and tear on my bartender Barbara. I like to keep my bartenders happy!
Staring at drink #2 I see two tables of Texas Holdem going on and an open seat for me.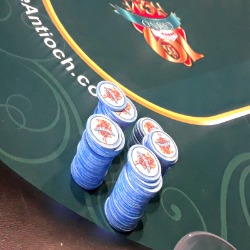 I buy in for $60 and decide to ease into the game slowly, play tight until I spot the "bluffers."
Couple hands in I get a suited Ace/8 and pay $3 to see the flop. I see another Ace/8, the dead man's hand if you know the story of Wild Bill Hickok. I raise and get a couple calls. Another Ace, a full house, and drag the $50 pot my way.
My second drink is kicking in and I get an Ace high flush and win another pot. The Alabama game is starting. I decided to take my $99 in winning chips to the cage manager. She tips me a $1 and makes it an even $100.00. Sweet!
There is a FREE ROLL TOURNAMENT every Saturday and Sunday starting at 12:00. I'm going to remind myself about this if you know what I mean.