I'm standing outside Denny's waiting for a friend when I hear the roar of a substantially sized crowd.
Having a minute I walk over to see what is going on. This is the A21 "Human Trafficking Walk Day." The talk is over. The walkers are pumped they are ready to walk and raise awareness, money and disrupt the slavery economy.
I'm pleased so many people care enough to show up on a Saturday to support a good cause.
I look up the organizations' website. Sure enough, there is  Antioch walk listed on the schedule between Antwerp and Ann Arbor. This is a worldwide organization. I'm suitably impressed. This is a good list for Antioch to be on.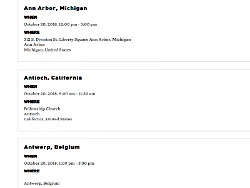 So, now I'm more aware of the problem and you are too.